Important Notices
End of Semester Best Practices
In order to ensure a smooth, end of the semester, if you are utilizing Canvas for grading, please consider following these best practices based on the district processes for handling enrollments in Canvas.
Important Note: Withdrawn student data, downloading of data, and sending of messages is not available after final grades have been entered in SIS.

Before entering grades in SIS
Archive Grades - Download your gradebook to CSV to archive it locally on your computer or flash drive (Click on Grades > Click on the Gear symbol > Click on Download to CSV)
Gather Data - Download any course surveys, quizzes or exam results to archive them locally on your computer or flash drive (Click on Quizzes > Select the Quiz > Click on Quiz Statistics > Select the download option of Student and/or Item Analysis)
Final Communications - Send end-of-course messages to students if desired
After entering grades in SIS
End Course - You can leave your course "as is" and it will automatically go into a read-only mode for students. They will no longer be able to submit assignments or communicate with the class. If you prefer, you can also end your course (Settings > End Course). We DO NOT recommend concluding your course as it becomes inaccessible to you and you cannot un-conclude it.
Course Copy - Get ready for Spring by copying your courses. Navigate to the Spring 2014 course > Settings and then follow the Course Copy Instructions.
Locking Content - Regardless of whether you end your course or not, if you don't want students to view assignments, quizzes and materials after the course is over, we suggest locking items using the availability features within each tool. Enter a date far in the future – 1/1/2020 for example) to keep the contents locked. Locking Modules.
Clean Your Inbox - Archive your Fall messages in your Conversation Inbox so that you can start the Spring semester with a clean slate. Archiving Conversations.
Customize Your Course Menu - Remove your Fall classes from and add your Spring courses to your course drop-down menu. Customize Course Menu.
Internet Explorer Update
Internet Explorer 11 was released in November 2013. Canvas supports the two most recent versions of each of the major browsers, however for IE9 the support will be extended through May 2014. After May 24, 2014, Canvas releases will not be tested to ensure that new features work and over time, those using Canvas in IE 9 will experience more and more difficulties. Additionally some upcoming "new" features may not be supported at all in IE 9 even before the May deadline. We recommend leaving IE 9 as soon as possible. Review the list of supported browsers in the Canvas Guides.
Canvas Update Cycle
Canvas is on a 3-week update-release cycle. The beta release notes for this next cycle were available on 11/25, production notes were available as of 12/02 with the release and documentation to follow on 12/07. For information about Canvas updates follow the release page.
Join the community+ as we explore teaching and learning at MCC!
About the community: The CTL@MCC Google+ Community strives to bring together educators in higher ed to collaborate, share, learn, and innovate so that together we can improve student success and college completion.  Join the conversation and help us celebrate excellence!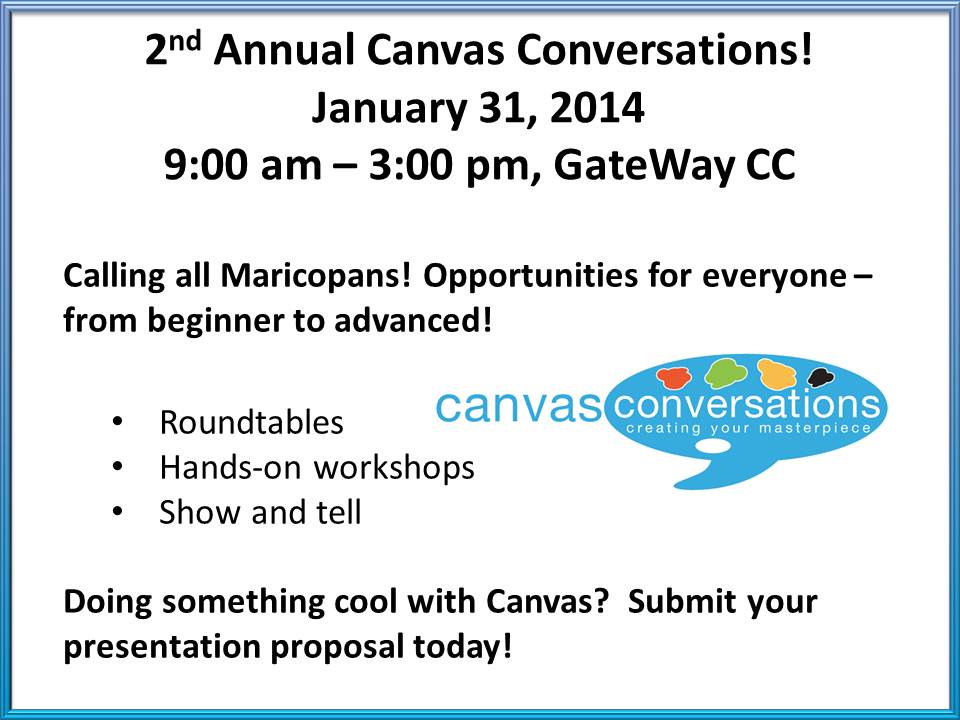 Mark Your Calendars
Mark your calendars and plan to join MCCCD for the 2nd Annual Canvas Conversations event January 31, 2014 from 9 am to 3 pm at GateWay Community College.
This all day event will focus on all things Canvas. Opportunities for everyone – from beginner to advanced! Participate in:
Roundtables
Hands-on workshops
Show and tell
This event is open to all Maricopa faculty and staff. Don't delay – take a minute to register today!
Submit a Proposal to Present
In addition, we know you are doing awesome work in Canvas; please consider submitting a proposal today to share your ideas and expertise!
Read Past Happenings