Canvas User Update: Fall Start-Up
 Important Canvas Notices
Course Copy: The course copy process continues to improve in functionality. Now you can more easily select items that you want to copy from a course, rather than deselect content. Don't forget to use the Adjust Events and Due Dates option to save yourself time. Please note it can take up to 2 hours for copies of courses from one semester to another to be completed (size and traffic determine speed). Feel free to leave the copy page or logout of Canvas while the copy is being made. Additionally, pay close attention to any error notices at the end of the copy process. Review any alerts reported (posted notice in the import history) and take corrective action. Errors will most often be related to broken links or empty pages. Please see our copy guidelines to get you started.
Publish Course Items: Publish any quizzes, assignments, discussions, content pages or modules that should be visible to students prior to publishing your course. Publishing the course will not publish items within the course that are still in "draft state". Learn more about the draft state in the recent update section below.
Course Publish: Don't forget to publish your course to make it available to students. To publish the course find the publish notice dialog box on the course home page. Select Publish and follow the screen prompts. Once a course is published you can continue to make changes and updates as needed. Courses cannot be unpublished once students have submitted work to the course. Directions for publishing courses.
Special Tools & Publisher Integration Changes:Due to recent changes to several of our special integrations in Canvas including ShareStream, Pearson and McGraw Hill you may to re-integrate these tools to ensure that they are working properly. For Pearson integrations users will need to use themaricopa.instructure.com log-in to access Pearson materials. If you are using one of these products, contact the MCC Center for Teaching & Learning atctl@mesacc.edu OR (480) 461-7331 for additional details.
Canvas Update Cycle
Canvas is on a 3-week update-release cycle. The next beta (preview) release is on 8/25, production notes will follow on 9/2 with the release and documentation to follow on 9/6.Follow the release schedule on the Canvas Updates Calendar.

Gold Star is Looking for Mentees and Mentors for Fall 2014 – Apply Today!
The CTL in collaboration with the eLearning Committee announces the Call for Applications for Mentees and Mentors to participate in the Gold Star Program for Fall 2014.  Gold Star is a faculty-centered, training and peer-review process to support MCC faculty developers (mentee) to redesign an existing or develop a new Internet or hybrid course based on the QM Rubric.  The Fall 2014 Program includes both individuals and/or collaborative teams.  
Individual: Faculty interested in re-designing an existing or developing a new online or hybrid course.
Collaborative Teams: Inner-disciplinary or cross-disciplinary faculty interested in re-designing an existing or developing a new online or hybrid course.  Not to exceed more than 3 members per team.
Additionally, the faculty developers are paired with a Gold Star Program Mentor. The Mentor supports with the design of the Mentee's online or hybrid course.
To learn more about the Gold Star Program and to submit an application to participate as Gold Star Mentee or Mentor, go to: Gold Star.
Questions – Contact – Annapurna Ganesh, Gold Star Coordinator
Email: aganesh@mesacc.edu; Phone: 480-461-7305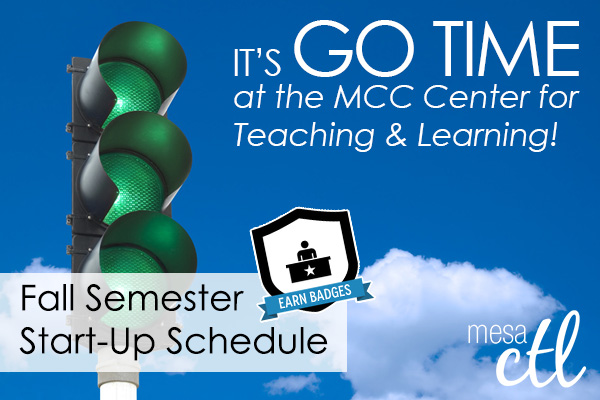 It's Go Time! Fall is Almost Here!
The Mesa Community College Center for Teaching & Learning is offering an exciting variety of learning opportunities planned to help you start your semester out right. See our Fall 2014 Semester Guide Book for descriptions and dates for all of our upcoming opportunities. Check our calendar for updates.
A Registration System Designed to Track Your Growth:
CTL sessions use HRMS (Time & Labor) for our registration system. The system allows for an up-to-date attendance system that integrates with your employee record and allows for wait-lists for busy sessions. Each opportunity has a unique course and session number to make it easy to identify and register for. Please feel free to contact us, ctl@mesacc.edu, if you have any questions or concerns about how to register with this system.
Register through HRMS – http://tinyurl.com/MCCRegisterNOW
Registration Instructions HRMS – http://tinyurl.com/hrmsregister
Session Opportunities for August 10 – August 22
GO LEARNING MANAGEMENT!
10 Steps to Getting Started in Canvas
Canvas is the Learning Management System of choice at the Maricopa Community College District. Did you know that Canvas can benefit any course format -face-to-face, hybrid and online? Learn how to communicate with your students, post course materials/ syllabus, set-up assignments and grades within Canvas in just 10 easy steps.
Pick from the following sessions:
Monday, August 11, 9:00 a.m. – 11:00 a.m.
HRMS Course #001839, Session #0008; CTL AS Building – Room 175; Register Now
Tuesday, August 12, 3:00 p.m. – 5:00 p.m.
HRMS Course #001839, Session #0009; CTL AS Building – Room 175; Register Now
Thursday, August 14, 10:30 a.m. – 12:30 p.m.
HRMS Course #001839, Session #0010; CTL AS Building – Room 175; Register Now
GO GOOGLE!
Getting Started with Google – Mail and Calendar
Attend this session to have hands-on assistance in using the MCCCD Google Mail and Calendar systems. Learn the basics to effectively communicate and organize your work schedule!
Wednesday, August 13, 3:00 p.m. – 5:00 p.m.
HRMS Course #001718, Session #0012; CTL AS Building – Room 175; Register Now
GO SUCCESS FROM DAY 1!
Building a Learning-Centered and Interactive Syllabus
Engaging students in the learning process begins with the syllabus. In this session we will explore how to construct a syllabus that not only conveys the required MCCCD/MCC policies and procedures of the class, but introduces students to the goals of the learning process in an engaging way.
Pick from the following sessions:
Friday, August 15, 3:00 p.m. – 5:00 p.m.
HRMS Course #001201, Session #0011; CTL AS Building – Room 175; Register Now
Monday, August 18, 8:30 a.m. – 10:30 a.m.
HRMS Course #001201, Session #0012; CTL AS Building – Room 175; Register Now
Read Past Happenings