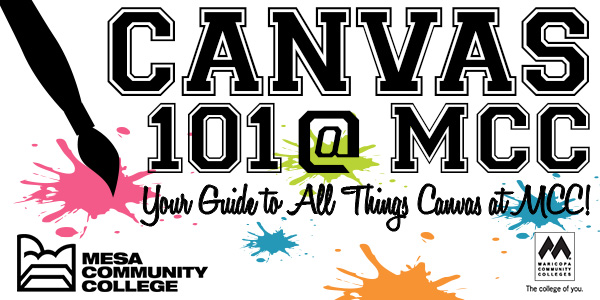 The New MCC Canvas 101 – Student Orientation to Canvas Revamped!
The MCC Canvas 101 Student Orientation course has been revamped. This self-enrolled, self-paced course was first made 2 years ago when MCCCD transitioned to Canvas. It is given out by faculty to orient students to Canvas. It is also published on our MCC eLearning web site, Center for Teaching & Learning Canvas Tutorials and other locations.
What's New? MCC Canvas 101 Reloaded
The course had become a bit out-of-date so we took the opportunity to overhaul the entire orientation and have some fun! We beefed up the content to match the wider feature set of Canvas since we created the original Canvas 101 course 2 years ago and made the the content more responsive so that won't be out of date every 3 weeks when Canvas make an update. We also gave it an overall design facelift and an option for students to either take the full orientation (or approach modules ala carte). Finally we added some engaging gaming strategies with the use of digital badges to encourage students to go through the tutorial.
The improved course includes:
All the relevant Student Canvas Tutorial Videos (embedded so they will be up-to-date at all times) and narrative with links to guides that are kept current by Canvas.
Additional assignments for students to try-out Canvas features, specifically working in the Canavs Group Feature.
A more course like feel with and opening module that explains the purpose of an learning management system and specifically the advantages of Canvas to student learning.
Narrative and content to cognitively wrap students with a deeper understanding of how Canvas works, the expectations of how they should work in it (profile image professionalism, netiquette) and the resources available to them when they need help (HelpCenter, Canvas Guides, etc.).
Digital Badges that students can earn for completing each module. This is administered by Credly, a free service. Learn more about digital badges – Educause 7 Things You Should Know About Badges.
A final certificate of completion that can be earned if a student returns a survey telling us about their experience.
Interested in Teaching Online/Hybrid or Web-Enabled Classes?  

Prepare with CIS 236 & 237 at Mesa Community College this Fall Semester
The CIS 236 and CIS 237 series is designed to help you get started in teaching & learning in the hybrid and online formats or to support you in web-enabling your ground/face-to-face course. First, experience the 'student' perspective and discover new digital teaching tools in CIS 236 and then explore course design and content creation in CIS 237. Instructors will complete the series with practical tips, researched pedagogy and a duplicative structure for building and facilitating an online or hybrid format class.
Advantages of the Open Entry / Open Exit Format
Mesa Community College is offering CIS236 and CIS237 in the Open Exit/Open Exit format for the Fall 2014.
Flexible Learning!
Pick your own start date (8/25 – 10/17)
Set your own pace over an 8 week period
No hard deadlines.
Enroll Today
Enrollment through My.Maricopa.edu.
Complete your Student Information Form
Pay for the course, Learn About MCCCD Tuition Waivers: http://www.maricopa.edu/publicstewardship/resources/tw.php
If you have difficulties registering or have questions about these courses, contact the instructor:
CIS 236:  Web Based Teaching & Learning I (2 credits), Section #28083
Experience using a web-based learning environment from an online student's perspective. Use communication tools, submit assignments, use evaluation tools, and navigate an online-learning environment.  Introduction to the basics of online pedagogy and lots of hands-on experience with a web-based learning environment and digital teaching tools! Prerequisites: CIS133CA or CIS 133DA, or permission of instructor. Contact instructor for override code.
Offered fully online during Fall 2014 (Open Entry/Open Exit) – Choose a start date between August 25 and October 17. Students will have 8 weeks to finish the course from the start date.
CIS 237:  Web Based Teaching & Learning II (3 credits), Section #28084
Discuss theories, methods, and best practices for designing, developing, and delivering an online course including Classroom Assessment Techniques, Flipped Classroom, Quality Matters and more.  Create an online or hybrid course module using a web-based learning environment.  Prerequisites: CIS 236, or permission of instructor. Contact instructor for concurrent enrollment code (allowing students to take CIS236 and CIS237 simultaneously).
Offered fully online during Fall 2014 (Open Entry/Open Exit) – Choose a start date between August 25 and October 17. Students will have 8 weeks to finish the course from the start date.
Canvas User Update: Fall Start-Up
 Important Canvas Notices
Course Copy: The course copy process continues to improve in functionality. Now you can more easily select items that you want to copy from a course, rather than deselect content. Don't forget to use the Adjust Events and Due Dates option to save yourself time. Please note it can take up to 2 hours for copies of courses from one semester to another to be completed (size and traffic determine speed). Feel free to leave the copy page or logout of Canvas while the copy is being made. Additionally, pay close attention to any error notices at the end of the copy process. Review any alerts reported (posted notice in the import history) and take corrective action. Errors will most often be related to broken links or empty pages. Please see our copy guidelines to get you started.
Publish Course Items: Publish any quizzes, assignments, discussions, content pages or modules that should be visible to students prior to publishing your course. Publishing the course will not publish items within the course that are still in "draft state". Learn more about the draft state in the recent update section below.
Course Publish: Don't forget to publish your course to make it available to students. To publish the course find the publish notice dialog box on the course home page. Select Publish and follow the screen prompts. Once a course is published you can continue to make changes and updates as needed. Courses cannot be unpublished once students have submitted work to the course. Directions for publishing courses.
Special Tools & Publisher Integration Changes:Due to recent changes to several of our special integrations in Canvas including ShareStream, Pearson and McGraw Hill you may to re-integrate these tools to ensure that they are working properly. For Pearson integrations users will need to use themaricopa.instructure.com log-in to access Pearson materials. If you are using one of these products, contact the MCC Center for Teaching & Learning atctl@mesacc.edu OR (480) 461-7331 for additional details.
Canvas Update Cycle
Canvas is on a 3-week update-release cycle. The next beta (preview) release is on 8/25, production notes will follow on 9/2 with the release and documentation to follow on 9/6.Follow the release schedule on the Canvas Updates Calendar.
Read Past Happenings