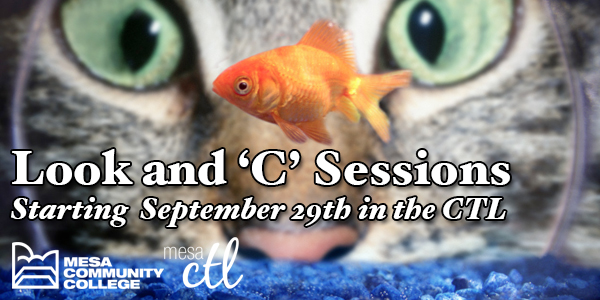 Look and 'C' Sessions Begin Monday, September 29th in the CTL
Not sure what the MCC 4′s are and want to learn more? Ready to use the C's, but not sure which 'C' aligns with your course? Want to see examples of how faculty plan to assess MCC's 4Cs in their courses? Do you want to participate in SOC's assessment pilot this spring? If you answered yes to any of these questions you should attend one of the Look and 'C' Sessions beginning Monday, September 29th in the MCC Center for Teaching & Learning.
4C's? What are those?
Through the leadership of the Student Outcomes Committee, MCC has adopted Institutional Student Learning Outcomes, the MCC 4C's, that are consistent with the Vision, Mission, and Values of Mesa Community College and reflect our commitment to Individuals and Community, Innovation, Integrity, Learning, and Service Excellence. These 4C's are  Communication, Civic Engagement, Critical Thinking, and Cultural & Global Engagement. All faculty are encouraged to incorporate the C's into their courses.
This Fall you will get a chance to dive deeper into each of these Learning Outcomes at a special Look and 'C' Session. Sessions will be presented by members of the SOC Committee and by faculty who are incorporating one or more of the 4C's into their courses. Participants in the hands-on sessions will walk away with an in depth knowledge of each 'C' including the criterion and scoring rubrics. Additionally participants will get a chance to see the each 'C' in action and to brainstorm ideas for adding an aligned activity, assignment or project to one of the outcomes.
Register Now for Look and 'C': Diving into Civic Engagement
Civic Engagement encompasses actions to promote the quality of life in a community, through both political and non-political processes.
Choose from one of the following sessions:
Monday, September 29th 12:30-2:00pm in the CTL Lab
HRMS Course#002179, Session #0001 – Register now through HRMS
OR
Friday, October 3rd 1:00-2:30pm in the CTL Lab
HRMS Course#002179, Session #0002 – Register now through HRMS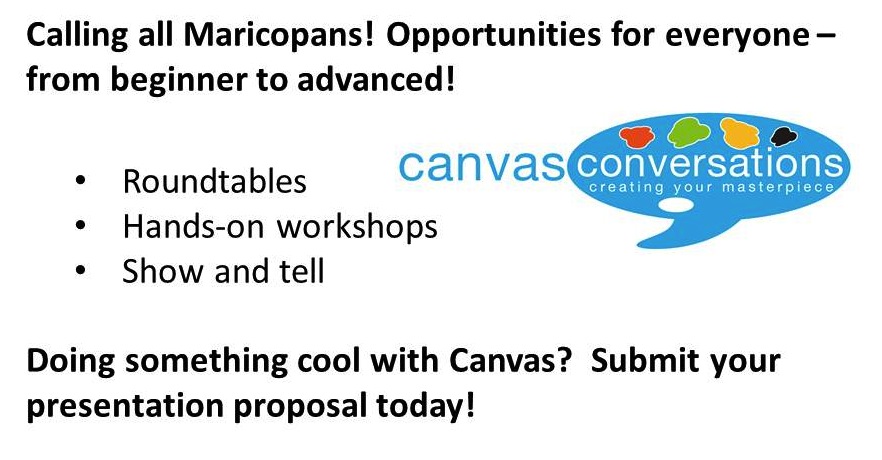 Mark Your Calendar & Join the Conversation
Please plan to join us for the 3rd Annual Canvas Conversations event on Friday, November 7, 2014 from 9 am to 3 pm at Scottsdale Community College. This event is open to all Maricopa faculty and staff. This all day event will focus on all things Canvas. Opportunities for everyone – from beginner to advanced! Participate in:
Roundtables
Hands-on workshops
Show and tell
Dialog with colleagues
Registration will open soon! Check the MCLI web site for details!
Submit a Proposal to Present at the Conference
We know you are doing awesome work in Canvas; please consider sharing your ideas and expertise by submitting a proposal today! Proposals are due by 11:59 pm Sunday, October 19, 2014.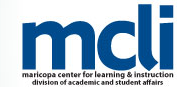 Registration Open for the 2014 Student Success Conference
The Division of Academic and Student Affairs & Maricopa Center for Learning & Instruction
Expectations, Aspirations, and Achievement
The 26th Annual Student Success Conference will be held Friday, October 17, 2014, at the Sheraton Phoenix Downtown Hotel. Please reserve this date on your calendar and register today to engage in systemic conversations focused on student success and completion. Detailed information regarding the keynote speakers, breakout presentations, and registration can be found at:
http://mcli.maricopa.edu/success/2014
Location:
Sheraton Phoenix Downtown Hotel
340 N. 3rd Street, Phoenix
(Conference parking available to attendees)
Keynote Presenters:
Pedro Noguera, Peter L. Agnew Professor of Education New York University, Steinhardt School of Culture, Education, and Development and Executive Director, Metropolitan Center for Urban Education
Terry O'Banion, President and Senior League Fellow League for Innovation in the Community College and Distinguished Professor and Chair of the Graduate Faculty, North American University
For questions regarding the Student Success Conference contact:
Dr. Ramona Cox at 480-731-8300
ramona.cox@domail.maricopa.ed
Read Past Happenings