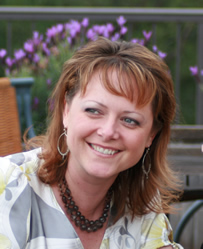 Recently, Nicki Maines attended the Sloan-C Conference…Virtually. Here is what Nicki had to say about her experience…
I had the opportunity to virtually attend the Sloan-C Emerging Technologies for Online Learning Symposium.  I chose to participate live in this event for 3 main reasons:
To evaluate what I'm currently doing in my online courses
To learn what is possible now and in the future
To engage with educators around the world
I thought I could watch or listen to the sessions, while getting work done and keeping up with emails.  But, once a session started, I found myself participating in the live text feeds (both on social media and within the forum), feverishly writing down notes, and visiting websites to find out more information.  I have 30 pages of notes and a ton of bookmarks, saved presentations, etc.  But, I'll try and narrow this down to:
My top 5 take-aways:
1   "Roping the Bull Called Change" – There are now more mobile devices on earth, than people and over 1/2 of all Internet traffic is via video.  Embracing the challenges and connecting with others helps tremendously.
2    SoLoMo = Social, Local, Mobile – beyond the books and LMS – A common thread in all of the sessions and research supports that "learning is a SOCIAL process".  There are so many opportunities for increased engagement and collaboration with our students.  Social media tools and collaborative apps are great ways to start increasing dialog and building learning communities.  To "go beyond" the LMS to organize, assess and track all of the rich material for your courses, check out BlendSpace and to create custom, rich course textbook replacements, check out Ginkgotree.
3  Managing the information – The overwhelming wave of information we are exposed to is drowning us in facts and opinion. There are many curation tools and free apps to help simplify the information and allow us to keep our courses as current as possible.  A few notables to check out (and you probably need more than one) are ScoopIt, Feedly, Flipboard, IFTTT, Zapier and Diigo.
4   Favorite Collaboration / Tech Apps I have or plan to incorporate where applicable:
*Note: For an app to make it to my "favorite" list…I prefer that in addition to it being useful and enhancing student learning, that it is free, through the web, and easy-to-use with little instruction
5 Education 3.0 – the FUTURE educational landscape – Expectations for students and educators have never been higher. Students today must be prepared for a dynamic, global economy—one that calls on people to use data more thoughtfully, think creatively, and work productively in teams. By looking to the future of education, we can take advantage of new technologies and strategies to help all students learn better, and be better prepared for the future.  Here are 3 short films to give you a glimpse into what the future might look like:
http://researchnetwork.pearson.com/online-learning/videos
In summary…the future is here…hold on to your hats and check out what you can do with augmented reality in education, NOW, with Aurasma:
http://youtu.be/uHIxYpBW7sc
Nicki Maines is residential faculty in the Business and Information Systems Department and is always excited to incorporate technology with learning.  One of her favorite classes to teach is MKT110, Social Media Marketing.  If you ever want some tips on incorporating social media or technology in your classes, contact her at nmaines@mesacc.edu

FREE Web Series: TurnitIn® Plagiarism Education Week April 21-25
Join us in the Mesa Community College Center for Teaching & Learning April 21-25, 2014 for this week of FREE, daily webcasts and webinars "devoted to sharing ideas and best practices to teach educators and students how to move from copying to critical thinking".
"From Copying to Critical Thinking"
Monday, April 21 – Friday, April 25; CTL Lab AS175
Head to the CTL Lab (AS Building Room 175, Southern & Dobson Campus) daily to tune in to a selection of the webcasts and webinars being offered. Sessions are focused around the topics of: promoting critical thinking, preventing plagiarism, creating contextualized assignments and more.
Full Week Schedule & Registration
Join your colleagues in the CTL to attend the sessions together (no registration required). Each featured session will be followed by a 15 minute idea share/dialog.
Can't make it in? Register for the sessions individually to participate remotely in your office or at home. Certificates of Participation are provided for registered participants.
Featured Session for Monday, April 21
Student Online Research and Critical Thinking: Wikipedia in Education
10:00am to 10:45am followed by a 15 minute idea share/dialog until 11:00am
Featuring Jake Orlowitz, editor/administrator of Wikipedia
During this session, you'll gain insight into the site's founding pillars and core policies, its importance to the free knowledge movement, as well as its internal debates and challenges, particularly when used in an educational setting. Session Details
Featured Session for Tuesday, April 22
Engaging Arguments: Research and Writing in the Digital Age
1:00pm to 1:45pm followed by a 15 minute idea share/dialog until 2:00pm
Featuring Linda Friedrich, Ph.D.
This sessions will highlight how the National Writing Project is working with teachers to help students build critical research and writing abilities. Session Details
Featured Session for Wednesday, April 23
"I Plagiarized My Child's Birth": From Extreme Plagiarism to Contextualized Understanding
1:00pm to 1:45pm followed by a 15 minute idea share/dialog until 2:00pm
Featuring Audrey Wick, Professor of English at Blinn College and Turnitin MVP All-Star
This session will discuss how you and your institution can decrease plagiarism, increase student accountability, and improve critical thinking through contextualized examples. Session Details
Important Notices
Summer Canvas Course Shells are Open
Summer 2014 course shells have been opened in Canvas. You will find links to all your summer courses on your Course List under Future Enrollments. TIP: Customize your course menu to include summer courses in your quick pick list.
The ongoing Daylight Savings Time (DST) issue that delayed summer course shells has been resolved and instructors will be able to copy courses from one semester to the next without having to worry about due dates/times changing when dates fall over DST. TIP: It is still best practice for faculty to review all of their due dates/times each semester.
Fall 2014 course shells will be created within the next few weeks.
Canvas Proactively Addresses 'Heartbleed'
You may have heard recently of the 'Heartbleed' security vulnerability. Canvas IS NOT considered to be a high target threat, but nonetheless they have reported their security notice and are working proactively to address any potential security concerns. The MCCCD District IT is working with Canvas to ensure that Canvas and our student and instructional data remains safe and secure. There is no imminent threat to Canvas security.
What can you do to help with security?
Although we do not anticipate any issues with security, we can all take regular preventative steps to ensure that our data is safe. We recommend that you update your MEID password every few months and never, ever give your password to anyone under any conditions. MEID Password Maintenance Instructions.
Scheduled Maintenance Event April 16
Wednesday, April 16, 2014 between 2:00 AM and 3:00 AMMountain Time, Canvas will perform a very brief (<10 minutes) scheduled maintenance event. The purpose of the event is to install upgrades to key databases supporting the Canvas application.
Canvas Connections User Group
Don't miss the next meeting Wednesday, April 16, 12 noon – 1:00pm, CTL Team Spot – AS Bldg
Discussion: Best Practices Using the New Draft State
This informal user-focused group will meet bi-monthly to discuss: Features, Best Practices, Upcoming Changes, Issues/Bugs, Teaching Strategies, Design and Feature Requests.
Users should bring their own lunch. Snacks and desserts may be provided.
Canvas Update Cycle
Canvas is on a 3-week update-release cycle. The next beta (preview) release is on 4/21, production notes will follow on 4/28 with the release and documentation to be published on 5/3. For information about Canvas updates follow the release page.
Read Past Happenings