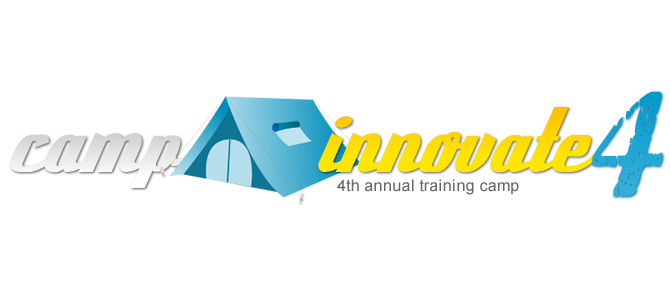 Get Ready Campers! Camp Innovate is Almost Here!
Monday, May 20 – Thursday, May 23
The Mesa Community College Center for Teaching & Learning will be holding its 4th Annual Camp Innovate training camp Monday, May 20 – Thursday, May 23 on the MCC Southern and Dobson Campus. Jump start your summer with this exciting week of activities to support teaching & learning at MCC. The week will consist of sessions that address excellence in education, technology, teaching and learning.
Schedule of Events
Topics will include Designing for Canvas, Digital Tools, ePortfolios, YouTube Essentials, Microlecturing, Lesson Design, Quality Feedback, Library eResources, Self-Graded Assessments, Accessibility, Photoshop and more! See the Camp Innovate Full Week Guide for a day-to-day listing and description of all events. All sessions are C.A.F.E. Credit eligible.
All sessions will be hosted in the CTL Workshop Room, AS Building; Southern & Dobson Campus. All MCCCD faculty and staff welcome. Attend one session, attend one day or attend all, we hope to see you there!  Space is limited, so register soon.
Is Camping Gear Required?
No! We won't actually be camping. Just bring you and maybe a friend or two to enjoy the learning and community. Provisions will be provided at the Lunch N Share event on Thursday, May 23, 12:30 – 1:30pm. Register for the lunch event.

Earn a Digital Badge for Participation and More
"Campers" can earn digital badges for participating in sessions, bringing guests and evaluating the event. These digital badges can be added to your professional portfolio. The MCC Center for Teaching & Learning will track and award badges based on the individual badge criteria.
1st Time Camper Badge – Attend 1 Session
Avid Camper Badge  – Attend 3 or More Sessions
Camp Inspector – Submit Evaluation for Week
Happy Camper – Bring a Friend to Camp
Learn more about using digital badges in education.
Register Now!
Register through the HRMS (Time & Labor System)
Having Trouble? Call us at (480) 461-7331 and we will register you. Questions? Send us an email at ctl@mesacc.edu. 

C.A.F.E. (Cafe = Colloquy for Adjunct Faculty Experience) is an Adjunct Faculty Development program sponsored by the Office of the Vice President of Academic Affairs and Coordinated by the Center for Teaching and Learning.
Who is Eligible for C.A.F.E.?
You must a adjunct faculty member currently teaching at Mesa Community College to be eligible for the C.A.F.E. Program. You must also submit the C.A.F.E. Program Form.
Earning C.A.F.E. Credits & Payment Information
Participants may earn up to just shy of $300 per academic year (a maximum of 11 credit hours) based on attendance at C.A.F.E. approved sessions offered by the MCC Center for Teaching & Learning. Funding is limited and priority will be given to first-time C.A.F.E. participants until funding for the year is exhausted.  Payment for accumulated credits will be made toward the end of the fall and spring semesters. Attendance at eligible workshops will be verified via the CTL and/or District online registration systems and signup sheets. You must sign-in attend an entire session to receive credit. Learn more about the Program.
Applying for the Program
Persons interested in earning C.A.F.E. credit must submit a form to receive payment based on the eligibility criteria. Forms submitted after the deadlines above will not be considered for credit. Credit cannot be carried over from one semester OR academic year to another. For the Spring application, sessions designated as C.A.F.E. from January 4 – May 3 may be included. Repeat attendance will not be considered for funding. Applicants must be currently teaching as adjunct faculty at MCC to receive payment under the program conditions. The deadline for C.A.F.E. program forms for the fall semester is Monday, May 6, 5:00PM.
To be considered for C.A.F.E. Program funding you must complete the C.A.F.E. Credit Form by Monday, May 6 at 5:00PM.
You can view your training summary (training transcript) in HRMS (Time & Labor). Any training you have taken with the CTL is listed as part of your Learning & Development Training Summary under Self-Service. Verify your training is designated as C.A.F.E. in the CTL Schedule. Only sessions attended from January 4 – May 3 will be considered in the Spring application cycle.
Read Past Happenings