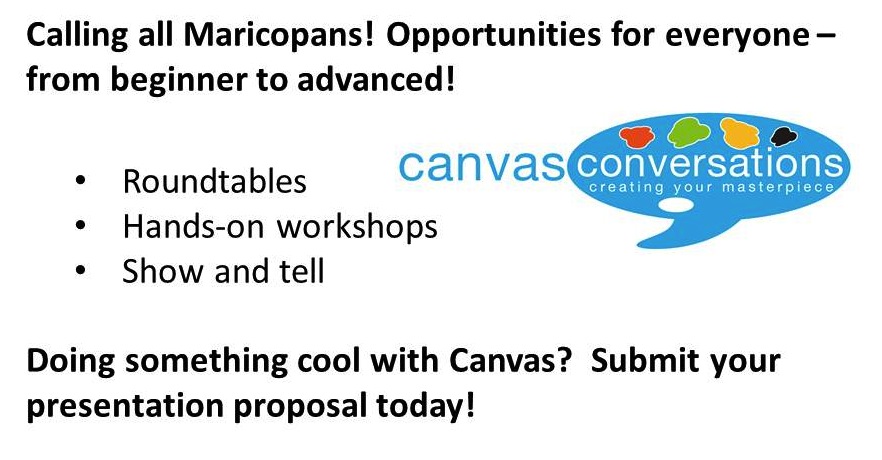 Mark Your Calendar & Join the Conversation
Please plan to join us for the 3rd Annual Canvas Conversations event on Friday, November 7, 2014 from 9 am to 3 pm at Scottsdale Community College. This event is open to all Maricopa faculty and staff. This all day event will focus on all things Canvas. Opportunities for everyone – from beginner to advanced! Participate in:
Roundtables
Hands-on workshops
Show and tell
Dialog with colleagues
Registration will open soon! Check the MCLI web site for details!
Submit a Proposal to Present at the Conference
We know you are doing awesome work in Canvas; please consider sharing your ideas and expertise by submitting a proposal today! Proposals are due by 11:59 pm Sunday, October 19, 2014.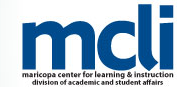 Registration Open for the 2014 Student Success Conference
The Division of Academic and Student Affairs & Maricopa Center for Learning & Instruction
Expectations, Aspirations, and Achievement
The 26th Annual Student Success Conference will be held Friday, October 17, 2014, at the Sheraton Phoenix Downtown Hotel. Please reserve this date on your calendar and register today to engage in systemic conversations focused on student success and completion. Detailed information regarding the keynote speakers, breakout presentations, and registration can be found at:
http://mcli.maricopa.edu/success/2014
Location:
Sheraton Phoenix Downtown Hotel
340 N. 3rd Street, Phoenix
(Conference parking available to attendees)
Keynote Presenters:
Pedro Noguera, Peter L. Agnew Professor of Education New York University, Steinhardt School of Culture, Education, and Development and Executive Director, Metropolitan Center for Urban Education
Terry O'Banion, President and Senior League Fellow League for Innovation in the Community College and Distinguished Professor and Chair of the Graduate Faculty, North American University
For questions regarding the Student Success Conference contact:
Dr. Ramona Cox at 480-731-8300
ramona.cox@domail.maricopa.ed

Webinar: Improve Completion Through Redesigning Developmental Courses
Hosted by Mesa Community College and sponsored by the Maricopa Center for Learning and Instruction
Mesa Community College, AS-170 CTL Conference Room
Wednesday, September 17, 2014
10:45 a.m. – 12:45 p.m.
FPG: Not Offered
Register Today: 
http://mcli.maricopa.edu/events/improve-completion-through
Description:
An Academic Impressions Webinar. Note: this session must be attended at the campus location specified. Users cannot attend virtually due to licensing agreements.
Research indicates approximately one-half of all incoming students need remedial work in at least one subject. While the majority of colleges offer developmental coursework, about 75% of students who enroll in these courses do not finish their degrees.
Join your colleagues and learn how Austin Peay State University redesigned their developmental courses using the Linked Workshop (or SLA) model. This redesign significantly increased student persistence rates and was recogniz ed by the National Center for Academic Transformation (NCAT).
What is the Linked Workshop (or SLA) Model?
This model provides remedial/developmental instruction by linking workshops that offer students just-in-time supplemental academic support to core college-level courses. The model also integrates supplementary instruction, tutoring, learning communities, and accelerated learning—all considered best practices in developmental coursework—into core college-level courses.
Who should attend?
Academic leadership involved with coordinating and improving academic support and developmental or remedial programs will gain new ideas from this case study. More specifically, directors of developmental programs and directors of academic support programs including student success, learning, tutoring, or writing centers will brainstorm ideas for improving your support initiatives.
Host & Support:
Helice Agria, Instructional Technologist, Mesa Community College
For more information please contact:
Dr. Ramona Cox
District Director, Academic Affairs Support Programs and Services/Maricopa Center for Learning and Instruction
Maricopa Community Colleges District
(480) 731-8295
ramona.cox@domail.maricopa.edu
Read Past Happenings