Important Canvas User Notices
New Canvas 101 for Students Launched at MCC
The MCC Canvas 101 Student Orientation course has been updated! This self-enrolled, self-paced course was first made 2 years ago when MCCCD transitioned to Canvas. It is given out by faculty to orient students to Canvas. It is also published on our MCC eLearning web site, Center for Teaching & Learning Canvas Tutorials and other locations. It is highly recommended that you encourage those students new to Canvas to take this course. This will not only help them be more successful in navigating Canvas to access important course information/activities, it should also save instructional time otherwise spent on technical issues. The easiest way to share this course is to include the web link in your syllabus, welcome letter, getting started activities, etc..
Canvas 101: Student Orientation to Canvas Course – http://tinyurl.com/learncanvas
Keep Your Browsers Current & Clean!
Many of the issues users face with Canvas relate to the web browser. Canvas supports the latest two versions of all the major browsers (Internet Explorer, Google Chrome, Safari and Firefox). Although users may be able to access Canvas with older browser versions, they may experience a variety of issues including loss of functionality and worse, loss of work if the browser crashes.

In addition, it is important for browser health and for the usability of Canvas and Canvas features to regularly clear the browser cache. We recommend that users mark their calendar to do this maintenance at least a few times per month or whenever they experience issues like being unable to record video or audio using the Canvas media tools. Some Canvas features also require Flash and the Java plug-in.

A few words on security. Canvas is a secure environment and this can sometimes cause issues with certain multimedia features like embedded videos and tools working or displaying properly due to browser security. It is important to provide links to media and tools, as well as the embedded versions to ensure that students are able to see and interact with course material.

Learn more about Canvas and browser compatibility including security. **Bookmark this resource and give it to students it is extremely valuable!

Resources for Clearing Browser Cache
When in Doubt, Switch Browsers!
One of the first things a user should try when they are experiencing an issue in Canvas is to switch browsers. It may sound like a Help Desk cliche, but a little flexibility in browsing preferences can save a lot of time and frustration. Currently most users are preferring the functionality provided by Google Chrome or Firefox. Internet Explorer is supported, but not recommended.
Canvas Update Cycle
Canvas is on a 3-week update-release cycle. The next beta (preview) release is on 9/15, production notes will follow on 9/22 with the release and documentation to follow on 9/27. Follow the release schedule on the Canvas Updates Calendar.
Recent Changes
Big changes come in small packages! Many of the recent updates to Canvas have been tiny tweaks to functionality that will make your life and the learning of your students better and better! Review all the recent changes from the 9/6/2014 release.
Canvas Course List All-Stars
The Canvas Course list functionality has been changed to allow all users (students and faculty) to more easily manage their Canvas courses. The previous customize option (to control what courses appeared in the 'quick list' drop-down course menu) has been combined with the My Courses page. Now users can view all their courses and select which courses to display (using the new star icons to mark favorites) in the drop-down menu all within the same location.
Your course(s) marked as a 'favorite' will correspond to your Courses drop-down menu, Canvas Conversations Inbox menu and Calendar menus so it is worth taking the time to customize your course list each semester!


Additionally the My Courses page includes more information about the status of a course including whether it is published or not. 
Note:
 Unpublished courses are listed in gray and include a tag which is visible to faculty and students. When students hover over an 
unpublished
 course they will see a message stating - "This course had not been published. Students should contact the course instructor for access."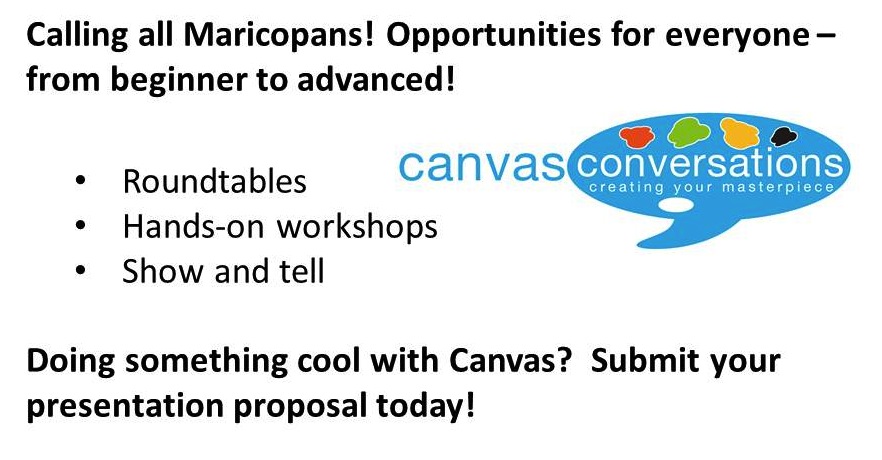 Mark Your Calendar & Join the Conversation
Please plan to join us for the 3rd Annual Canvas Conversations event on Friday, November 7, 2014 from 9 am to 3 pm at Scottsdale Community College. This event is open to all Maricopa faculty and staff. This all day event will focus on all things Canvas. Opportunities for everyone – from beginner to advanced! Participate in:
Roundtables
Hands-on workshops
Show and tell
Dialog with colleagues
Registration will open soon! Check the MCLI web site for details!
Submit a Proposal to Present at the Conference
We know you are doing awesome work in Canvas; please consider sharing your ideas and expertise by submitting a proposal today! Proposals are due by 11:59 pm Sunday, October 19, 2014.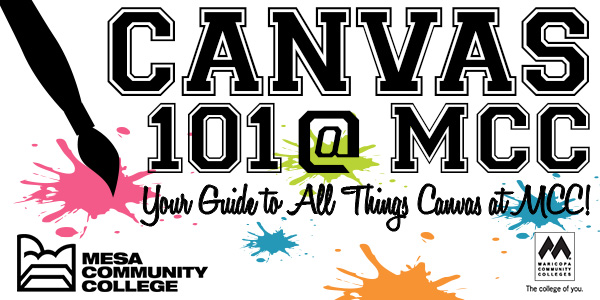 The New MCC Canvas 101 – Student Orientation to Canvas Revamped!
The MCC Canvas 101 Student Orientation course has been revamped. This self-enrolled, self-paced course was first made 2 years ago when MCCCD transitioned to Canvas. It is given out by faculty to orient students to Canvas. It is also published on our MCC eLearning web site, Center for Teaching & Learning Canvas Tutorials and other locations.
What's New? MCC Canvas 101 Reloaded
The course had become a bit out-of-date so we took the opportunity to overhaul the entire orientation and have some fun! We beefed up the content to match the wider feature set of Canvas since we created the original Canvas 101 course 2 years ago and made the the content more responsive so that won't be out of date every 3 weeks when Canvas make an update. We also gave it an overall design facelift and an option for students to either take the full orientation (or approach modules ala carte). Finally we added some engaging gaming strategies with the use of digital badges to encourage students to go through the tutorial.
The improved course includes:
All the relevant Student Canvas Tutorial Videos (embedded so they will be up-to-date at all times) and narrative with links to guides that are kept current by Canvas.
Additional assignments for students to try-out Canvas features, specifically working in the Canavs Group Feature.
A more course like feel with and opening module that explains the purpose of an learning management system and specifically the advantages of Canvas to student learning.
Narrative and content to cognitively wrap students with a deeper understanding of how Canvas works, the expectations of how they should work in it (profile image professionalism, netiquette) and the resources available to them when they need help (HelpCenter, Canvas Guides, etc.).
Digital Badges that students can earn for completing each module. This is administered by Credly, a free service. Learn more about digital badges – Educause 7 Things You Should Know About Badges.
A final certificate of completion that can be earned if a student returns a survey telling us about their experience.