Important Notices & Updates
URGENT: Daylight Savings Time Issues
Currently Canvas operates and adjusts based on Daylight Saving Time (DST). Arizona is an exception to the observation of this custom. We believe we will continue to see instances in which due date times (and corresponding "available from" and "available until times") for assignments and other dated activities will shift by one hour after DST begins at 2 am on March 9.  You are encouraged to check your course (including discussions, quizzes and assignments) to verify the accuracy of all due dates and times after the time change.  
We suggest holding off as long as possible on all course copies to give Instructure time to work on a fix.  If you must perform course copies now, please check your course (including discussions, quizzes and assignments) to verify the accuracy of all due dates and times.  We will update you as soon as we have more information from Instructure on an anticipated fix date. We apologize for the inconvenience. The MCCCD LMS Core team is working diligently with Instructure to resolve this issue.
More Information on Editing Assignment Due Dates/Times
Recent Updates
Here are some highlights of the latest new features, updates and changes from the March 1 Release. Note: Features are subject to change based on testing! Some features may be selectively released by MCCCD.
Outcomes: Learning Mastery Gradebook
The Learning Mastery Gradebook is a feature to help instructors and administrators assess the student learning Outcomes that are being used within Canvas courses. This addition to the gradebook allows instructors using the Outcomes feature to see an overview of student learning based on set Outcome standards rather than grades. Note: Instructors must be using the Canvas Outcomes feature to benefit from this new feature AND must enable the Mastery Gradebook in the Course Features area. 

Important Notices
Scribd Issues Resolved
For many of you the start of class brought some technical difficulties with the Scribd Preview feature in Canvas. Scribd is the service that allows for file documents to be viewed within Canvas. In the first week of class, this feature was not rendering documents correctly, and so users (students and instructors) were receiving error messages that documents were deleted or unavailable.
This issues has now been resolved and previews should be working normally. Keep in mind that the availability of document previews is always subject to the volume of users uploading and viewing documents across the entire Canvas system. This can cause the previews to delay or even temporarily not display. Some of you may better recognize this phenomenon by the characteristic "bicycle wheels" that never seem to stop spinning when you try to open a document! To help alleviate confusion It is important to let students know about the download option for any files that you share.
New User? More about document previews.
When viewing an uploaded file shared in Canvas, users will have the option of a magnifying glass icon to open the file in the Scribd preview OR a pop-out icon to download the file to their computer.
GUIDE: Files Supported by Scribd
Canvas Connections User Group
Don't miss the next meeting Tuesday, February 4, 12 noon – 1:00pm, CTL Team Spot – AS Bldg
New and seasoned users are welcome to join us to:
Connect! Stay on the inside track with all things Canvas.
Share! and Learn! with others.
Engage! in some great conversations over lunch.
This informal user-focused group will meet bi-monthly to discuss: Features, Best Practices, Upcoming Changes, Issues/Bugs, Teaching Strategies, Design and Feature Requests.
Users should bring their own lunch. Snacks and desserts may be provided.
Canvas Update Cycle
Canvas is on a 3-week update-release cycle. The beta (preview) release for this cycle was on 1/27, production notes followed on 2/3 with the release and documentation to follow on 2/8. For information about Canvas updates follow the release page.
February 8 Release Preview – Amazing Features! Big Changes!
Canvas will be implementing a Production Release on February 8. Here are some highlights of the new features, updates and changes. Note: Features are subject to change based on testing! Some features may be selectively released by MCCCD.
Draft State
The Draft State feature will allow content in Assignments, Quizzes, Modules, Pages, and Discussions to be in an unpublished (draft) state even if the course is published. Draft content will be invisible to students and excluded from grade calculations. Draft State is a Course-level feature option, and will be available on a course-to-course basis once MCCCD decides to enable the feature at the institutional level.
The Draft State feature will impact all of the major user interfaces within Canvas (for instructors only).You are strongly encouraged to log-in to the beta environment to explore the features within Draft State to see what this new world will look like! Here is an overview guide to prepare you for the change: Canvas Feature Options: Draft State PDF. Additional documentation will be available in the Canvas Guides when Draft State is officially placed in the production environment.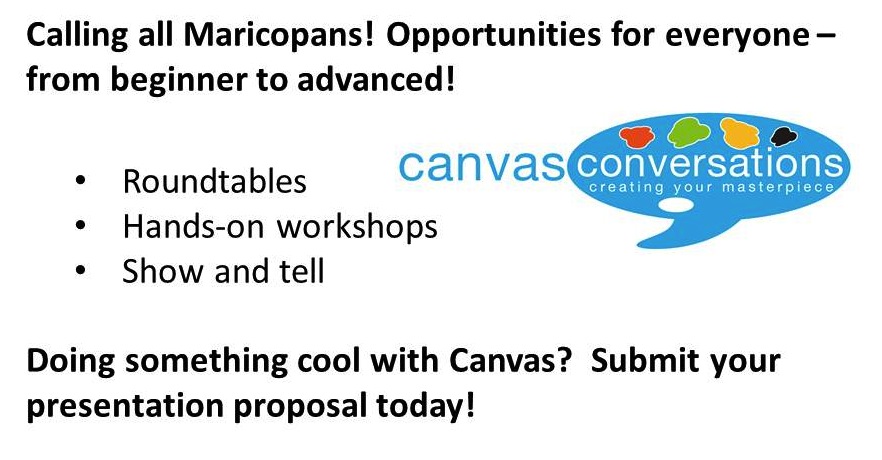 Don't Miss Out! Canvas Conversations: Creating Your Masterpiece Program Announced
Hosted by Gateway Community College
Gateway Community College, Copper Room 
Friday, January 31, 2014
9:00 a.m. – 3:00 p.m.
Register Today: http://mcli.maricopa.edu/events/canvas-conversationsconference
Description: Please join us for the 2nd Annual Canvas Conversations. Now that nine colleges have officially migrated to Canvas, it is time to reflect on our experiences, learn best practices and fine-tune your Canvas courses. Faculty will present their lessons learned, engage in round-table conversations and dialogue with Canvas experts.
Conference Program:
| | | |
| --- | --- | --- |
| Time | Event | Location |
| 8:15 am | Registration Begins | Outside Copper Room(IE 1302) |
| 9:00 am – 9:15 am | Welcome from Gateway Community College | Copper Room |
| 9:15 am – 10:00 am | Webinar from InstructureHear about Canvas updates from the Instructure crew. | Copper Room |
| 10:15 am – 11:00 am | Concurrent Sessions | Reference Schedule Below |
| 11:15 am – 12:00 pm | Roundtable Topics | Copper Room |
| 12:00 pm – 1:00 pm | LunchLunch generously hosted by MCLI and SMCC | Copper Room/Outside(your choice) |
| 1:00 pm – 1:45 pm | Concurrent Sessions | Reference Schedule Below |
| 2:00 pm – 2:45 pm | Concurrent Sessions | Reference Schedule Below |
| 2:45 pm – 3:00 pm | Closing remarks and raffle prizesTurn in your name badge at 2:45 in the Copper Room for a chance to win great prizes, including a massage, lunch at the PC Cafe Oso and Canvas swag. Must be present to win! | Copper Room  |